Stream the 1st Annual Bridge School Benefit Concert!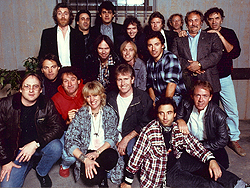 The Bridge School in 1986 – a dream, a vision, a call to action and THE FIRST ANNUAL BRIDGE BENEFIT CONCERT.
Were you there? It was magic! Hosted by Neil Young and featuring Crosby, Stills, Nash & Young, Nils Lofgren, Tom Petty, Robin Williams, and Bruce Springsteen this concert was staged to raise money to start The Bridge School and now you can relive the memory or experience it for the first time. Neil Young has the 1986 concert available to stream from his website at https://neilyoungarchives.com/news/movietone.
All proceeds will support The Bridge School.