Meet Our Current Teacher in Residence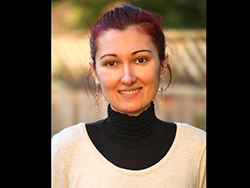 Carmen Valcu is our current Teacher in Residence. She is from Bucharest, Romania and has been a Special Needs Teacher since 2009, in a class formed by students with severe, profound, associated intellectual and communication impairments.
She has also worked as an ABA therapist for a few years and as a Speech and Language Pathologist after graduating with a Masters in Language and Speech Therapy.
She worked with children who have special educational needs such as severe mental disabilities, autism, ADHD, Down syndrome, neuromotor impairments, behavioral difficulties; all of them had complex communicational needs that limited their day-by-day life.