2014-2015 – Krithika Venkatraman, Chennai, India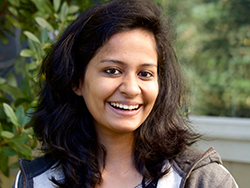 The 2014-2015 Teacher in Residence is Krithika Venkatraman from Chennai, India where she is employed as a special educator at Vidya Sagar. Krithika has a postgraduate diploma in special education with an emphasis on multiple disabilities including physical and neurological impairments from Madras University and Rehabilitation Council of India. Her assignment at Vidya Sagar has focused on working with children with multiple disabilities ranging in age from 5 to 10 years.Krithika has a very ambitious agenda for her return to India. She will be working with the staff at Vidya Sagar on the implementation of the communication and educational strategies that she has found effective at The Bridge School and in that she believes can be integrated into the culture of the school in Chennai. Changing practices and introducing different approaches is difficult, however, Krithika is up for the challenge.
 was founded in 1985 by the mother of a child with a profound disability. The program started with three students and three staff members with the initial focus being a parent training program. Its objectives were to work on strategies that would empower parents of children with neurological impairments to include their children within their homes and support their inclusion in the community. The institution has expanded to run programs reaching out to over 3800 individuals with disabilities. The success of Vidya Sagar is predicated on providing high quality services, focusing on early intervention, special education, physiotherapy, speech and communication therapy, vision training, occupational therapy, co-curricula activities, counseling and vocational training. In addition, there are opportunities for exploring and creating employment and training of resource persons to work in the field of disability.