2008-2009 – Kirsty Nourse, Durban, South Africa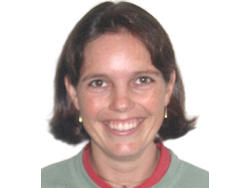 Kirsty Gillian Nourse is a speech and language therapist and audiologist working in Durban, South Africa for Pathways-Kloof. In her capacity as Academic Principal, Kirsty runs her own class, provides clinical supervision for university students, facilitates programs for all the children in the school and oversees a home program for children unable to attend school on a regular basis. An exciting new venture Kirsty has been involved in is the recent formation of a national body linking 8 Pathways schools around South Africa and developing standards and a peer review process for the organization.Kirsty also has a Masters degree in Early Childhood Intervention which focused on child development and family centered practices. Pathways-Kloof serves 37 children ranging in age from 2 to 18 years and Kirsty employs a child and family centered approach in developing programs for these youngsters. Kirsty's multidisciplinary work throughout her career will give her an added advantage in her internship at The Bridge School as this approach is a central feature of our programs.
Important aspects of the Teacher-in-Residence program is the ability of the interns to disseminate the skills and knowledge gained through the experience once they return to their home country and the support they can expect from their institutions and colleagues. Kirsty is in an excellent position to provide training and knowledge translation as she currently has the responsibility of providing staff and student training in Pathways-Kloof and is working nationally with the other Pathways schools to establish standards and has the potential to provide extensive training throughout the system.